Date Published: 07/08/2022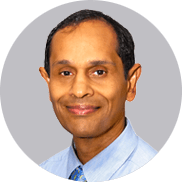 Dr. Bobby V. Khan is a principal investigator in the Accel Research Sites Network and the executive director of Carmel Biosciences. His areas of expertise include cardiovascular and immunology.
In his role at Carmel Biosciences, Dr. Khan helps the company get high-efficacy and safe drugs to market quickly. He was involved in successfully getting FDA approval of Prexxartan (oral valsartan solution) for the indication of hypertension, congestive heart failure, and myocardial infarction in patients over 6 years of age and those who cannot swallow tablets. His area of research interest is based on primary preventive measures in reducing cardiovascular and immunological diseases, specifically, in the mechanisms of vascular biology that initiate atherosclerosis and on targets (either medical or nonmedical) that may retard or even reverse the process of the disease. Dr. Khan is dedicated to providing further education to populations who are at high risk of early and aggressive forms of cardiovascular and immune diseases.
Ready to be part of healthcare history? Find the right clinical trial for you.