Date Published: 09/09/2022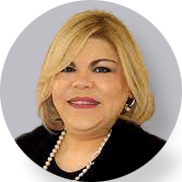 Dr. Rosa E. Negron Munoz is a principal investigator at Accel Research Sites' Lakeland location. She has been a practicing psychiatrist for over 18 years and has served as a principal investigator with Accel Research Sites since 2020. In addition to her role at Accel, Dr. Negron Munoz currently supports several organizations with psychiatric services in the Lakeland area.
Dr. Negron Munoz is triple board-certified psychiatrist by the ABPN in Adult, Child and Adolescent, and Forensic Psychiatry. She is a distinguished fellow of both the American Psychiatric Association (APA) and the American Academy of Child and Adolescent Psychiatry (AACAP). She is on the board of directors of NAMI Polk County, as well as the Tri-County Human Services Foundation. She is a member of the American Academy of Psychiatry and the Law, AACAP, APA, and the Florida Psychiatric Society.
Ready to be part of healthcare history? Find the right clinical trial for you.